This is part 2 of a five part blog series on How to Know If You are Hiring A Don Draper Salesperson.
Posers lose when they compete against real Don Draper salespeople.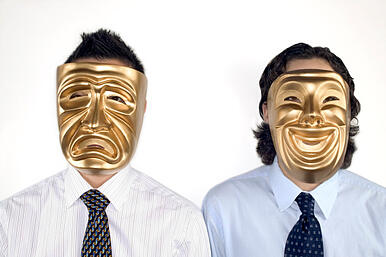 A couple of years ago we were brought in to help a Sales VP who had absolutely no business being a Sales VP. He had been promoted because he had "put in his time" and he was a good friend of the prior CEO.
This company had a powerful reputation and brand in the region. They were the "go-to" company that had served the region for decades. Their brand sold far more than any salesperson ever did. The sales team were order takers posing as salespeople (posers) and added very little value to the sale.
The posers in this company were fat and happy; they were accustomed to getting most sales just by asking for it. They had mastered the art of taking credit for making a sale when they were really just order takers. And they felt entitled because like their predecessors - they had put in their time.
Then the region began to experience some changes. New competition entered the market. Companies came in and offered real value through their Don Draper salespeople, while our Client's Sales VP maintained the strategy that had worked for him in the past; rewarding order takers who had put in their time.
The outcome was predictable. It was a bloodbath for our Client.
We were brought in to help turn it around.
When we met with the CEO, our recommendations were strong. We reviewed the performance of each salesperson with the CEO. We reviewed territories and relationships. We showed the correlation between sales performance and the Behavioral Traits and Motivators of their salespeople. Her face was ashen.
She knew what she had to do.
And she did it. She was a "Get it".
Nothing is ever as it seems.
When we first engage a sales team, we do everything possible to learn how salespeople and sales management view sales performance.
Every company has their own vision of what sales performance means to them. It is ingrained in their sales culture. Some companies are highly-competitive and bottom-line driven. They recognize and value true performers.
Others rely on the brand to do all of the selling, choosing instead to focus on relationships, which really means, "We really cannot sell value so we will give up price and service."
In order to understand what sales performance really means, you must peel away the layers. You need answers to the following questions:
How are leads assigned?
Which salespeople have the best and worst territories?
How are salespeople held accountable? Who gets away with murder?
Do the CEO and sales management team "Get it"?
Who is related to the boss or ownership?
What are the Behavioral Hierarchies of the sales management and each salesperson?
These questions help provide a clearer picture of the sales culture and whether or not the company "Get its".
Don Draper salespeople are predictable.
The only way to objectively understand the true selling potential of a sales team is to review each salesperson's sales personality and aptitude test results.
Don Draper salespeople and sales managers have a very distinctive Behavioral Hierarchy.
Unless they have poor management, Don Draper salespeople are hard chargers. They get it done on a consistent basis. They scare the hell out of other salespeople, the competition, and sometimes their sales manager.
The data does not lie. After more than ten years of data-crunching, countless interviews with Don Draper salespeople, sales posers, and everyone in between, we have learned how to definitively identify top salespeople using our Moneyball Algorithm.
For the sake of your Customers, your shareholders, your bottom line, and your financial future, you must do the same.
Don Draper outside salespeople can be charted.
The best outside salespeople have a particular combination of both strong and weak Behavioral Traits. If one of these traits is out of alignment, no Don Draper outside salesperson.
| | |
| --- | --- |
| Strong | Weak |
| Competitiveness | Customer Relations |
| Urgency | Consistency |
| Frequent Interaction with Others | Following Policy |
| Versatility | Follow-up and Follow-Through |
| Frequent Change | Analysis of Data |
| People-Oriented | Organized Workplace |
For a deeper description of each Behavioral Trait from the TTI TriMetrix® HD assessment, click here.
If you are committed (not interested) in hiring the best Don Draper outside salespeople - you must hire for these Behavioral Traits. Each sales "type" has their own optimal Behavioral Trait combination.
Don Draper salespeople can be graphed.
The previously-described 12 Behavioral Traits come from TTI's DISC. If you are familiar with DISC. Outside salespeople wired like Don Draper have a Natural Style DISC of approximately 88-84-8-26.
If you are not familiar with DISC, you should be.
For outside salespeople - we generally recommend the following DISC combination. The high "DI" combination exudes confidence, is not afraid to take risks, and can handle social rejection quite well. The "C" in the 20's to 30 range is very helpful in ensuring that some level of process-orientation is causing the high performer to analyze what they are working on before pushing hard in that particular direction.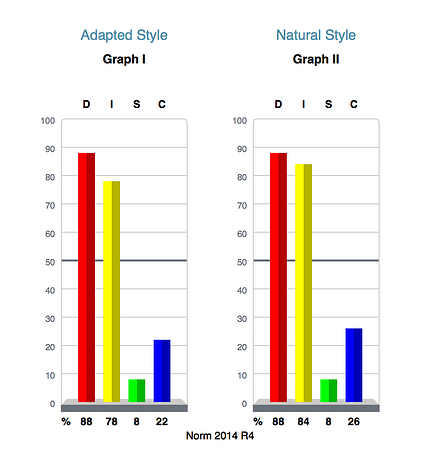 We find that this outside sales Behavioral Style combination is particularly effective in producing results when combined with strong selling Motivators (more on motivators next week).
There is a price for sacrificing Job Fit.
Only stupid sales managers sacrifice talent quality to meet a short-term hiring need. I have seen way too many hiring mistakes where the sales manager was in a hurry and felt they had a "good enough" salesperson later realizing that their hastiness had just cost them time and money.
Are You "Wired" Like Don Draper?
Complete our sample sales personality test to find out. Next week I will share the High and Low Motivators of Don Draper salespeople. If you want to ensure you do not miss the next three articles - sign up for our blog at
www.therainmakergroupinc.com/blog
.