Your company is either artisan or it is not.
Consider the best product, service, or experience you have had in the last 90 days. Chances are an artisan designed and/or delivered it.
An artisan is a person who is passionate about how something is made or a service is delivered. They do not compromise in their effort to deliver something that is truly exceptional on a consistent basis.
In the last several months, I have sought out experiences delivered by artisans.
We recently experienced Cirque Du Soleil Amaluna in Minneapolis. It was an amazing show. As far as we could tell - the performance was perfect. The artists dripped passion. They clearly love what they do.
We love and use Apple products - iPhones / iPads / iMacs / Mac Air / MacBook Pro - and that is just my family. If there were a fire - chances are the one thing each of would grab other than one another and our dogs is our iPhones. Why do we love Apple? Because their products work and they are beautiful.
I have enjoyed several pizzas from Fire Flour Pizza- a great little pizza place across the street from our offices in downtown Bismarck, ND. Many, many amazing pizzas enjoyed. Fantastic.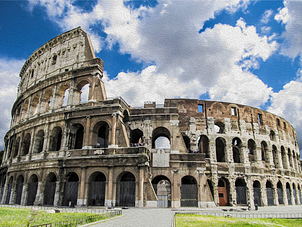 My son is being treated by Warford Orthodontics. Dr. John Warford Jr. is an artisan's artisan. He has changed many, many lives and he does not compromise when it comes to quality orthodontic care.
We recently had the main floor of our home redone by Magi-Touch. They sent three gentlemen who are true artisans. I actually enjoyed watching them install it. They cared passionately - even about the things I would never see once the floor was finished.
The details matter to an artisan.
Recently our snowblower needed a tune-up. Joe Dietrich at Precision Small Engine Service distinguished himself by not only how he and his team took care of me, but also by taking the time to educate me on what makes a snowblower truly great. There is a difference between an average snowblower and a great one. Joe is passionate about what that difference is. The result... I just ordered a new Ariens snowblower from him.
What do each of the above products / services / experiences and artisans have in common? Two things...
They are "category of one" - they are "it" in my world. I choose them and I am unafraid to pay up for the experience.
They create a legacy. Long after the product / service / experience is delivered the artisan and/or their work is remembered.
There are few true artisans in the world. Most people who make a product or service are interested in excellence but actually committed to quickly getting things done and moving on to other things.
Interested people do what is convenient. Committed people do whatever it takes.
Few people are committed to the effort to do something extremely well - lasting - meaningful. We live in a disposable world. Furthermore, the larger the company - the more likely "free riders" will attempt to ride the coat tails of true artisans by failing to live up to the brand promise.
What sets true artisans apart...
The story matters... The journey matters as much as the product / service / experience.
Artisans care passionately... About their craft - the integrity of their reputation - the outcome.
Artisans do not compromise. They do not cut corners. A true artisan's standards are higher than everyone else's.
A story from the Walter Isaacson's biography of Steve Jobs illustrates an uncompromising mindset of a true artisan. An engineer once told Jobs, "The only thing that's important is how well it works. Nobody is going to see the PC board."


Jobs' reply was and is beautiful and timeless... "I want it to be as beautiful as possible, even if it's inside the box. A great carpenter isn't going to use lousy wood for the back of a cabinet, even though nobody's going to see it."

Companies have an opportunity to be artisan - but only if they choose to do so consciously and carefully.

Artisan companies hire artisans - no one else.
Artisan companies hire artisan engineers.
Artisan companies hire artisan customer service team members.
Artisan companies hire artisan salespeople.
No exceptions.
It begins with you. Be artisan.