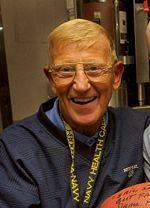 Without a doubt Lou Holtz will go down as one of the greatest college football coaches of all time.
For those not acquainted with Holtz' many accomplishments let me give you a taste... With a career record of 249-132-7 Holtz is one of the all time winningest coaches in college football history. His success was not limited to just one organization. In his storied career he led six different schools to college bowl games, winning bowl titles with five of these teams. Lou Holtz also holds the distinction as the only NCAA football coach to lead four different programs to top 20 final rankings.
Lou Holtz is a renowned builder of successful football programs. While he will probably be best remembered for the dynasty he established at the University of Notre Dame, his remarkable turnaround of the football program at the University of South Carolina will likely stand as one of the greatest turnarounds of all times.
Holtz took over a South Carolina Gamecocks football program that had been mired in mediocrity for as long as many could remember, and went on to produce one of the greatest football program turnarounds in recent history.
After two years of retirement, Holtz returned to the game in 1999 and took on what would prove to be the toughest challenge of his career – rebuilding a South Carolina Gamecocks football program that had just come off a 1-10 record. When Holtz finished his first season with the Gamecocks winless at 0-11, many thought he had lost his golden touch for rebuilding troubled football programs.
Stuck in a 0-21 slump, Holtz campaigned for a change in attitude within the program during the off season. Holtz received what he asked for, and the Gamecocks program - with its recent attitude adjustment - went on to achieve one of the greatest turnarounds in college football history.
Despite a dismal outlook from critics and their failure to taste victory in the last 21 games, the Gamecocks went on to defy all odds and finished the 200 season 8-4, capping off the season with a victory over perennial powerhouse Ohio State University in the 2000 Outback bowl. The 8 game improvement from the previous season's record is the third best in NCAA football history.
Holtz followed up on the remarkable 2000 turnaround season with an even better 9-3 record in 2001 and yet another Outback Bowl victory over Ohio State.
So what contributed to this remarkable turnaround? It certainly wasn't a flood of new top talent flowing into a program that had gone 1-21 over the past two seasons. Rather it was the leadership, determination, and above all the resounding positive attitude of the Gamecocks' head coach.
The point of this story is that attitude matters. Lou Holtz wasn't discouraged by the Gamecocks' dismal reputation as a football program, nor was he discouraged by a winless first season that would have forced many back into the shadows of retirement. Rather, in the face of all this adversity, Holtz turned to what many knew him best for – an incredibly positive attitude.
If you feel that your organization is mired in mediocrity, take a good look at your attitude as a leader and the attitude of those around you as it speaks volumes about your organization and what it believes. If your organization has an attitude that accepts mediocrity and believes that things can't be changed – it is probably right.
However as Lou Holtz clearly demonstrated with his turnaround of the Gamecocks' Football program, a positive change in attitude can have an incredible impact on the success of an organization.
Quite simply – change your attitude, change your results.