Since 1963, much progress has been made in this nation to make our Dream possible. Yet I wonder how pleased King would be with our progress if he were alive today.
Some of the most memorable words of his I Have A Dream speech are as follows,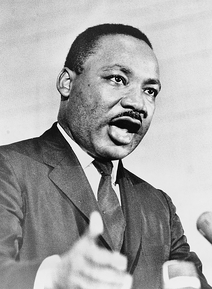 "In a sense we've come to our nation's capital to cash a check. When the architects of our republic wrote the magnificent words of the Constitution and the Declaration of Independence, they were signing a promissory note to which every American was to fall heir. This note was a promise that all men, yes, black men as well as white men, would be guaranteed the "unalienable Rights" of "Life, Liberty and the pursuit of Happiness." It is obvious today that America has defaulted on this promissory note, insofar as her citizens of color are concerned. Instead of honoring this sacred obligation, America has given the Negro people a bad check, a check which has come back marked "insufficient funds."
Here we are 49 years later, and I wonder, "Has everyone had the opportunity to cash their check?"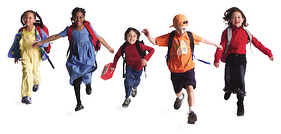 Credit: "[Rev. Martin Luther King, head-and-shoulders portrait, facing right, speaking at a rally in Crawfordville, Georgia]." United Press International telephoto,1965 Oct 11. Prints and Photographs Divison of the Library of Congress.
The good news… We no longer have separate bathrooms for people of color, no longer do our children attend different schools based on color, no longer are the Negro's The Help (If you have not seen the film or read the book, do it now!), and no longer do minorities have a "special" theater or water fountain just for them. Much progress has been made, but prejudice still occurs on a daily basis. Unfortunately, prejudice does not only occur for Negro's, but it occurs against every color of skin, religion, age, and even sex.
One place that prejudice occurs is in the workplace where employers are striving for diversity. Is a manager more likely to hire a less qualified minority just to add diversity? Will a manager that holds prejudice refuse to hire a highly qualified Middle Easterner due to their decent? Is an expecting mother refused a job because the employer knows she will soon be taking maternity leave?
Diversity in the workplace is often thought of as having different races or "many colors of skin." Is that truly diversity? Those that think this should probably check the definition of diversity, which is "the state or fact of being diverse; difference; unlikeness." Humans are different in many ways, not just by the color of their skin. I am much more outspoken than my colleague, which makes us different or diverse.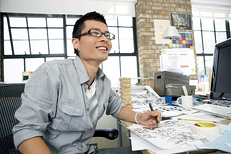 Martin Luther King Jr. said in his speech,
"I have a dream that my four little children will one day live in a nation where they will not be judged by the color of their skin but by the content of their character."
King's Dream was not that his children or anyone be judged "by the color of their skin (no matter what that color might be) but by the content of their character."
If King were alive today, I believe he would agree that an employer should choose employees based on their character, qualifications, and job fit – that skin color not be a factor. With all the talk about diversity in the world today – was it really King's vision – to hire employees to purposely create diversity (diverse races) or deny candidates based on prejudice.
It is time that Martin Luther King Jr.'s Dream comes farther, and everyone has an opportunity to cash their check.
Martin Luther King Jr.'s Dream – our dream – our responsibility is yet to be fulfilled.