In God we trust. Everyone else bring data.
There was a time I believed that all I needed to be successful in sales was to offer the best product / service solution backed with solid evidence.
I believed that if I simply shared the evidence, smart people would invest in the best solution.
I could not have been more wrong.
We hate losing more than we love winning.
Like you, when we lose, we autopsy to identify opportunities for iterative improvements.
There are two distinct patterns in our losses.
The more we deviate from our target personas, the more we lose.
The more we engage our target personas who possess little to no business acumen and / or are overly ego-focused, the more we will lose (never-gonna-get-its).
Two important lessons here:
Never deviate from our identified target personas.
Avoid "never-gonna-get-its" like the plague.
Who are your target personas?
If you have not defined your target personas, you are wasting valuable sales time.
The more salespeople you have, the more sales time and effort you are losing until everyone knows who your target personas are.
Our target personas include (in order of importance):
Why is the CEO our primary target persona? The CEO usually has both business acumen AND the ability to sign. Furthermore, the CEO is the best antidote to "never-gonna-get-its".
The weakest of our three target personas is the VP of HR by far. It seems that HR is either brilliant or not brilliant at all. It seems that the larger the company, the more likely the VP of HR will be a get it. If right now your blood is boiling and you work in HR, chances are you are not brilliant.
Less than 10 percent of those in HR management are what I call a "get it". A "get it" is a person whose business acumen supercedes their personal bias(es), relationships and / or ego.
Our second weakest target persona is the VP of Sales. More often than not the VP of Sales is a "get it" but not always. When the VP of Sales doesn't get it, it seems their ego-focus is particularly significant.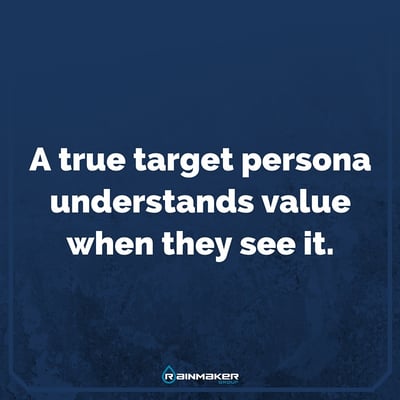 What a "never-gonna-get-it" looks like.
A "never-gonna-get-it" strikes fear in the heart of myself and my colleagues. They are an epic time suck with zero return-on-effort.
"Never-gonna-get-its" suffer from personal bias(es), relationships and / or ego needs that supercede business acumen.
"Never-gonna-get-its" are indecisive and slow-moving. Avoid them at all costs.
Help your salespeople identify and avoid "never-gonna-get-its".
Once a true target persona understands the business value of our tools, they move quickly to invest and implement. They "get it". A true target persona understands value when they see it and they realize time is money.
We could run all the sample assessments in the world, show the correlation between sales performance and our assessment data and "never-gonna-get-its" would still wring their hands or say outright say, "no".
Get in tune with how target personas with a primary focus on business outcomes and those who make decisions primarily through personal bias(es), relationships and / or ego without engage you. Identify the warning signs, get in tune with them. Then avoid these people at all costs.
Know the warning signs and LISTEN TO THEM. It is rare that you can rehabilitate a "never-gonna-get-it".
"Never-gonna-get-its" are a time suck for you and your salepeople. Know what they look like and run away as quickly as possible when they are identified.
Three things you must do immediately.
That is if you expect to win every sale possible.
Hire the best salespeople possible in the first place using a valid sales personality assessment. Salespeople who do not fit the sales role not only miss sales but they also are less likely to identify the "never-gonna-get-its" when they see one.
Identify your target personas and prioritize them. Share this information with your sales team.
Identify what your "never-gonna-get-its" look like. Share this information with your sales team.