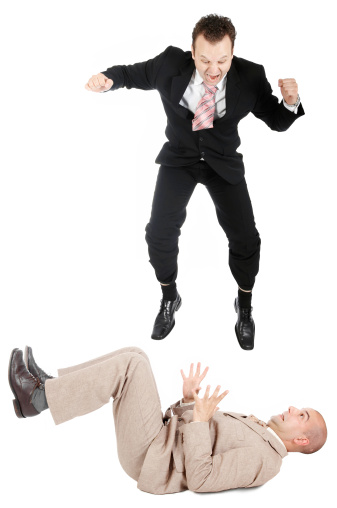 Managing a sales team would be pretty easy if it were not for the "managing people" part . . . No one seeks to destroy the potential of their salespeople. However, sales managers, especially those who also function as a salesperson are so busy they can fail to make managing salespeople a priority.
We recently helped a Client hire a new salesperson. I will call the new salesperson Mary.She was hired with high expectations. She fit the job well, had industry experience, and was excited to do the job. Two months into the job, her sales manager was not happy. Mary had no clue she was underperforming. The hammer was about to drop on her and she did not know it.
There were three key things Mary's sales manager failed to do that destroyed her potential:
Expectations were not set with Mary regarding day-to-day activity levels and short-term sales goals.
Mary was not trained on the sales process. Instead, another salesperson did a "ride along," demonstrated his sales process, and then went back to his own territory.
The sales manager's communication with her was limited while others on the sales team had almost daily interaction.
Have you seen or heard of this before? Unfortunately, what I am sharing is all-too-common.
All problems start at the head . . . If you know how to hire the right salesperson (If you do not know how, you better read this article that tells you how to.), but performance fails early on - you likely failed to manage and onboard the new salesperson properly.
Good salespeople want to know what is expected of them, be given feedback and direction, and they need encouragement.
"Sell as much as you can" is not a clear expectation.
Salespeople need a goal. The best salespeople are naturally competitive with others and with themselves. They need to know the standards that they are being measured against. Failure to set goals will result in lost motivation and lost opportunity. In Mary's case, her manager's expectation was to sell so much it creates a tax dilemna for the company.
"Sell as much as you can" is not a clear expectation - especially in a business with a short sales cycle and high sales volume.
If your company has a longer, more complex sales cycle, then day-to-day activities will serve as an immediate "barometer" for how well the salesperson is doing. What is done today leads to future sales.
Set activity and sales expectations so that the sales team member AND you know how well they are doing. The time to begin sharing expectations is during the interview process, during onboarding, and continuously throughout employment.
For example, do not discover that a remote salesperson is not prospecting adequately when you are reviewing expense reports like Mary's sales manager did. Stay ahead of poor performance by setting performance expectations and creating feedback loops.
Feedback and direction are critical.
All employees need feedback and direction - especially salespeople. The sales manager's job is to set expectations then offer feedback and direction on the team member's progress.
It is important to use a feedback process such as The Rainmaker 331 every two weeks for the first 60 days, then monthly or more frequently if needed for the duration of their employment. Mary's manager used our 331 process but not as frequently as needed. Recognizing when your salespeople need more or less feedback is important. When your salespeople do not meet expectations, you probably need to offer more feedback and direction.
You and your salespeople need to communicate - it goes both ways. Our 331 process facilitates the sharing of what is going well and not well from both of your perspectives.
Encouragement is important and personal.
"Our chief want is someone who will inspire us to be what we know we could be."―Ralph Waldo Emerson
Encourage your people - especially those you wish to keep and see grow. Keep in mind that encouragement is intensely personal. It is important to understand that behavioral and motivational differences determine what encourages them and how they prefer to receive encouragement. Do not assume the way you prefer to be encouraged, will work for others. Identify how each sales team member likes to be encouraged using a valid sales assessment.
Being a sales manager means you actually have to, well, manage your salespeople. This requires you set clear expectations and provide feedback, direction, and encouragement. You also need to recognize that some salespeople need more of your attention than others, especially when they are new to the team. Hire the right salespeople, manage effectively, and you will add to your bottom-line.